Sellier & Bellot TXRG Blue in Africa
2020/05/04
Sellier & Bellot has a long history of innovation dating back to 1825. While their line of rifle caliber hunting ammunition has been fairly traditional with a wide selection of accurate and effective soft points, they also offer a line of tipped copper projectiles designed for the modern hunting market. Introduced in 2008, the eXergy line of hunting ammunition utilized a traditional round nose design with an advanced copper construction and aluminum tip. The design proved to be accurate, effective on game and met the environmental guidelines for lead-free ammunition which were going into effect across Europe and in parts of the United States.
While this original eXergy design was well-received in Europe, it was clear that the American market wanted a more advanced, high BC type design. By 2011, American shooters were discovering the 6.5 Creedmoor caliber, accurate rangefinders and more capable optics that allowed them to take game at distances unheard of in Europe. In 2012, Troy Duerr, President of Magtech-S&B USA, and I asked the S&B factory in the Czech Republic to develop an updated eXergy design that would better meet the needs of the American market while still offering hunters a lead-free projectile.
The engineers at S&B produced a completely new design featuring a modern profile with a much higher BC, polymer tip, improved accuracy and an expanded range of calibers. The new bullet was called the eXergy Blue which later evolved into the TXRG Blue line. Troy and I were able to use the early prototypes on hunts in Europe and America. We found the design to be incredibly effective on animals up to elk-sized at extended ranges. Development continued through 2016 when the TXRG Blue design was essentially finalized and formally introduced into S&B's European markets. Magtech-S&B USA then introduced TXRG Blue into the American market at the 2020 SHOT Show.
So much for the history lesson, what is the reality of the Sellier & Bellot TXRG Blue line? First and foremost, we expect it to be an effective hunting bullet for a wide range of conditions. Of course, it's my opinion, but I've long believed that many of today's "wonder bullets" leave a lot to be desired when it comes to taking game under sub-optimal conditions. Hyper-accuracy from a thinly disguised match bullet under controlled conditions (re: a benchrest) seems to drive sales (and internet forum posts) but that doesn't always equate to being an effective hunting bullet. Despite our best efforts as hunters, not every shot is perfect and having a cartridge-bullet combination that performs under less than ideal conditions is what separates good bullets from great bullets.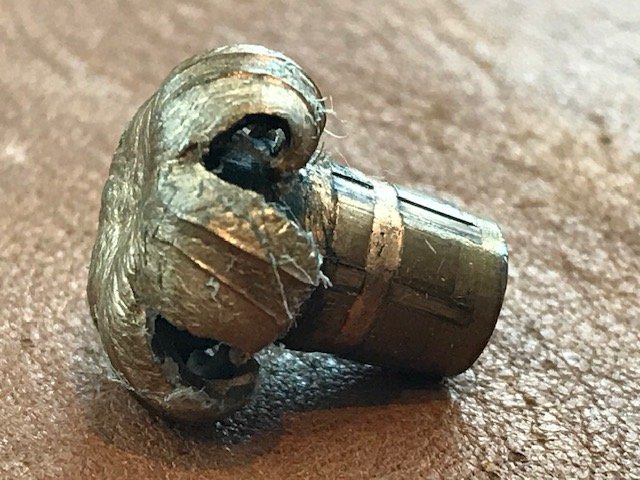 TXRG Blue was designed as a super tough, copper hunting bullet that will reliably expand, penetrate and retain weight under the most demanding conditions. It's also very accurate, consistently delivering sub MOA level accuracy in a variety of rifles. This combination of reliable terminal performance and accuracy distinguishes TXRG Blue from many other choices. It's also loaded in a factory that is focused on producing military and law enforcement grade ammunition for customers such as NATO member nations. Sellier & Bellot's production standards are very high.
After years of saving and planning, I was able to finalize my first hunting trip to South Africa in 2017 with Makonya Safaris. Along with my close friend Bryan James from Barrett, I traveled to the Limpopo Province in South Africa to hunt plains game with TXRG Blue ammunition and my Barrett Fieldcraft 30-06. This wasn't a marketing exercise or sponsored media trip. It was an honestly earned, personal hunting trip using gear I selected based on performance.
I certainly don't believe that African plains game is "tougher" than North American game, but I do feel American hunters often fail to realize that the organs in African game tend to sit lower and farther forward in comparison. The classic behind the shoulder American shot placement is asking for trouble with plains game. That being said, a wildebeest, gemsbok or kudu is no easy day and it takes a good bullet placed correctly on the shoulder to end things quickly.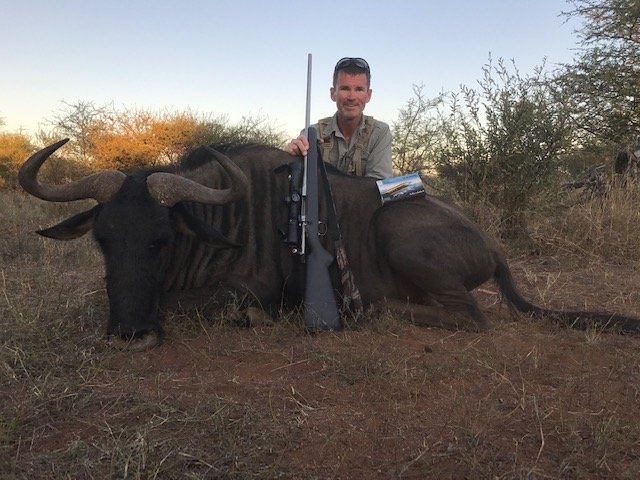 Over the course of my first week hunting in South Africa, I was able to take blue wildebeest, blesbok and impala all with one shot each from my Barrett Fieldcraft using 30-06 165gr TXRG Blue ammunition. As many hunters know, when hunts go well you begin to form a bond with the PH. They trust your shooting and you trust their ability to find game. With that also comes an additional level of honesty about the gear that works along with the gear that doesn't always perform to expectation. Our campfire talks, like most, turned to the calibers and bullets that perform best on African game. While many calibers work nicely, everyone agreed that using a quality hunting bullet was one of the best things a hunter could do to ensure success.
My PH, Tyler Botha, came to trust the TXRG Blue bullets to the point of requesting samples for his Blaser R8 in 300 Win Mag. I've since lost track of the number and variety of animals he's taken with the TXRG Blue ammunition, but it's well into the 100's. I can't conceive of a better indication of performance than having a PH use your ammunition when he's not being paid to do so.
TXRG Blue has been available in Europe for a few years now, but Spring 2020 will mark its official US Market launch. We delayed the US introduction so that a 6.5 Creedmoor load would be available along with the expected standard and metric calibers. First shipments are being received in the US now and will be available by late-May. Testing in the US confirmed that the 6.5 Creedmoor 120gr load is exceptionally accurate with Barrett, Bergara, Tikka, Ruger and Savage rifles.
Today's hunters have an incredible number of choices when it comes to quality ammunition. Not every load will be a match for all rifles, but ammunition quality has never been higher than it is now and rounds like the TXRG Blue give the hunter another option when they want a tough, accurate bullet that also happens to be lead-free. I'm proud of what Sellier & Bellot developed with this product line and feel confident hunters will find TXRG Blue to be an extremely high-performance option that consistently delivers under the most demanding conditions.
Magtech-S&B USA is the exclusive importer of Sellier & Bellot, Magtech, CBC and MEN ammunition for the American market. Mike Fisher is the VP of Sales & Marketing for Magtech-S&B USA